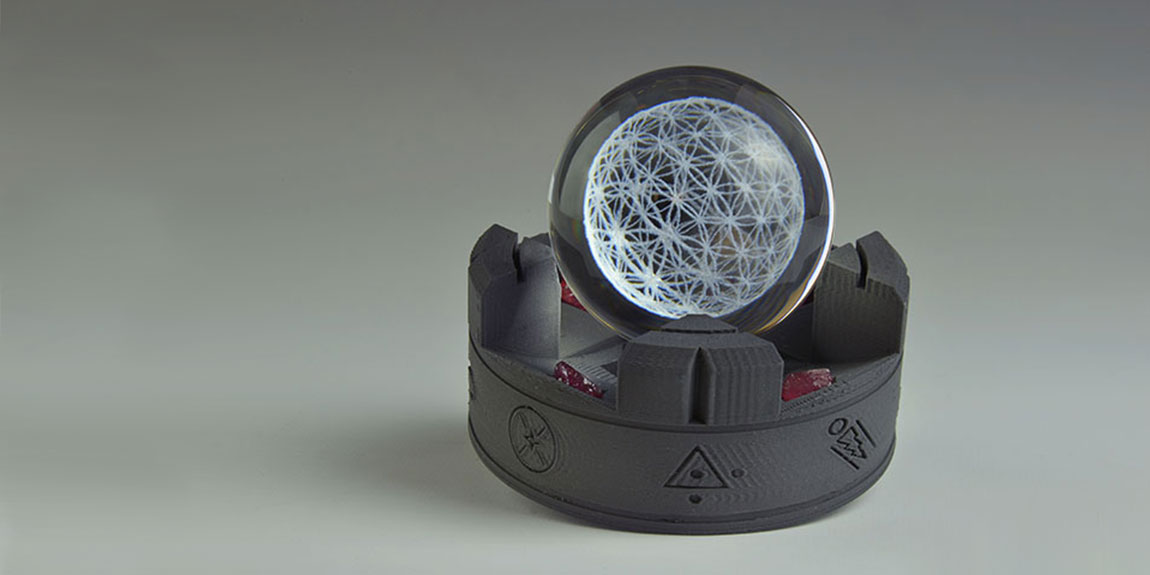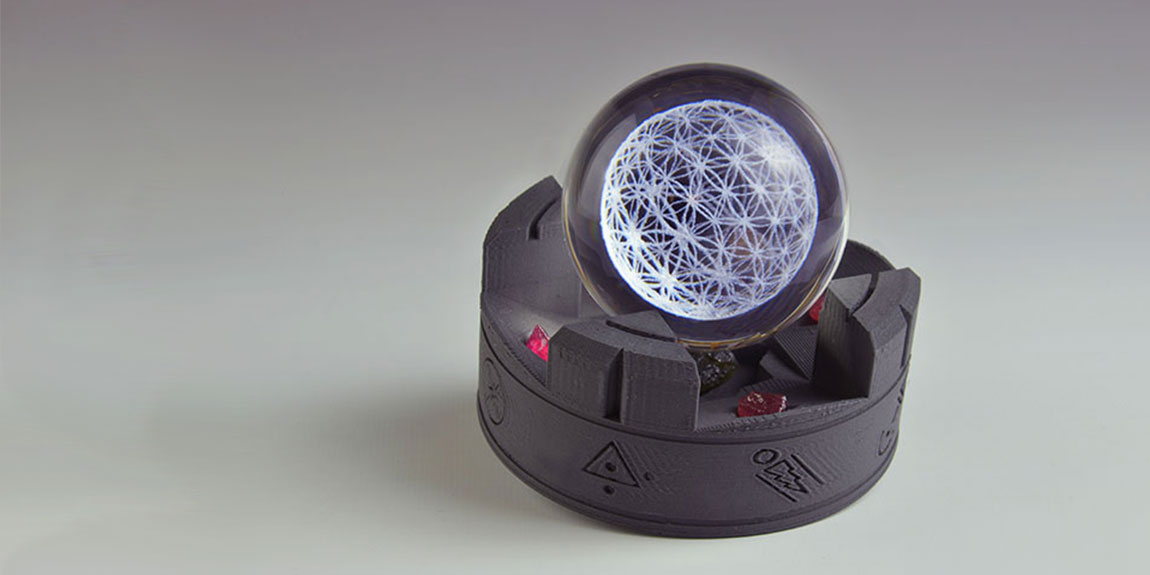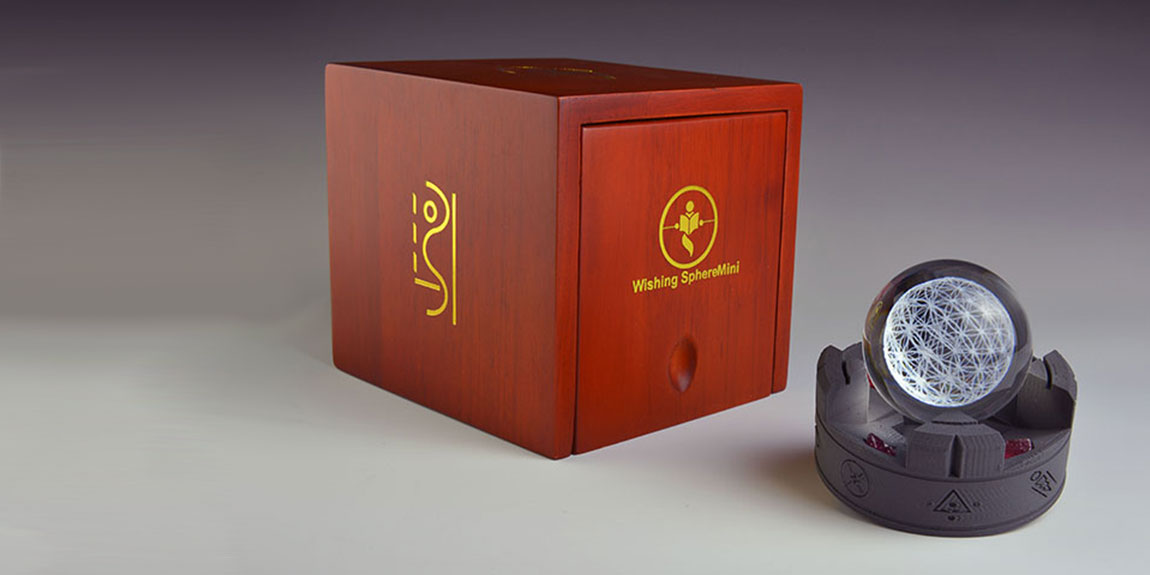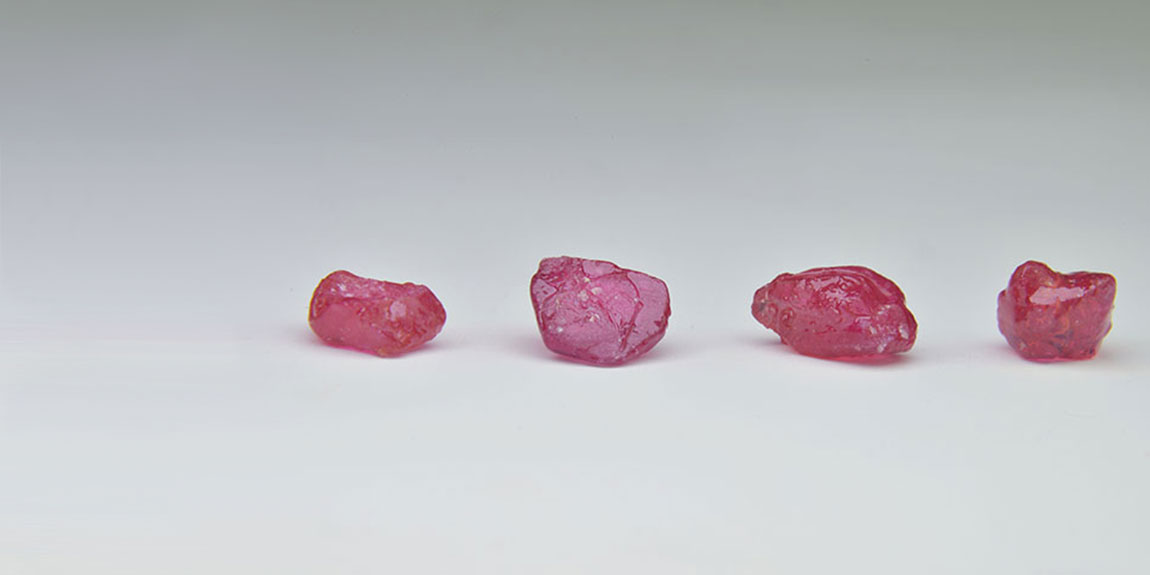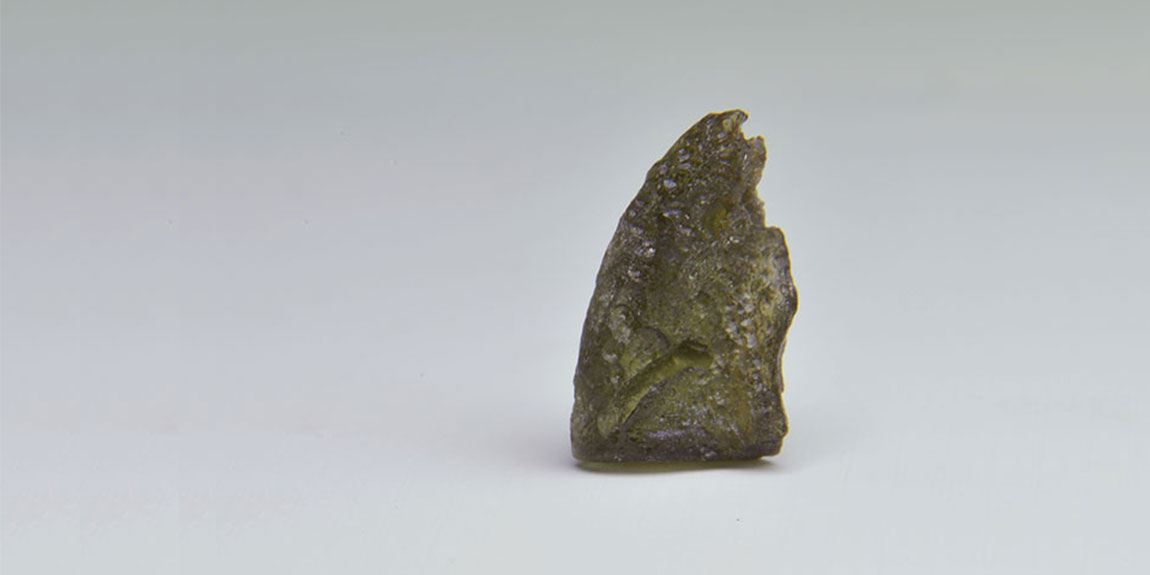 NEW!
Wish Your Way to Prosperity, Wellbeing, Romance, Sacred Knowledge, and More
With the Wishing Sphere Mini, the Universe Is Yours!
Featuring a beautifully carved, meteoric steel composite base for energetic grounding and protection, four natural precious Ruby stones, an extraterrestrial Moldavite stone and a gorgeous, 99.9% pure, lab-grade 50mm Quartz crystal ball etched with a 3D flower of life symbol, The Wishing Sphere Mini was channeled from divine knowledge to present you with a state-of-the-art tool for turning your wishes into reality.
Everything in the Universe is made up of energy. Your thoughts, hopes and dreams are energy. The Wishing Sphere Mini gives you a way to activate that energy and turn it into real life manifestations! This is where technology meets consciousness. Harnessing Quantum Physics, Sacred Geometry, and featuring never-before-seen Divine Symbols, The Wishing Sphere Mini is unlike anything else you will find on Earth.
You owe it to yourself to make your wishes come true.
See the Wishing Sphere Mini in Action
Advanced Instructions
With the Wishing Sphere Mini, You Can: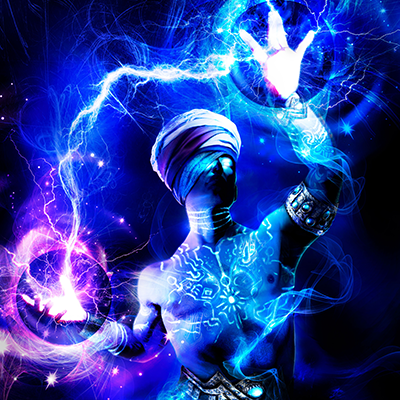 Wish for Anything.

The Wishing Sphere Mini does not discriminate between big hopes and small ones. Even seemingly impossible asks will be granted; often with manifestations that present a different pathway than previously imagined.

Save Time.

Faster than meditation or yoga, all you have to do is cast your wishes and then let The Wishing Sphere Mini do its work!

Get Creative.

Because of its unlimited capabilities, you can use The Wishing Sphere Mini to wish for things you'd previously not considered. Go beyond money, fame and romance…wish for fun adventures, inner and outer beauty, meaningful friendships, psychic insights and more!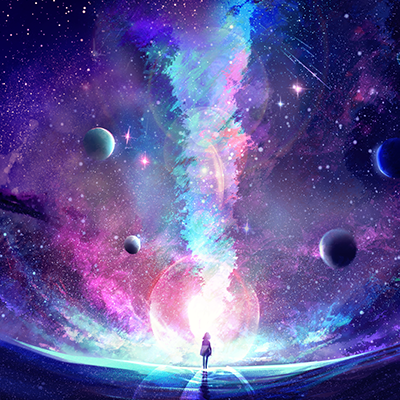 Access the Quantum Realm of Creation.

Gazing into crystal balls has long been thought to give the viewer access to special insights. This is enhanced by the 3D laser-engraved Flower of Life symbol embedded within the Wishing Sphere Mini.

Enhance Your Space.

As beautiful as it is useful, The Wishing Sphere Mini can be openly displayed anywhere in your home or office. It matches any decor and sends out energetic vibrations in all directions to cleanse and activate your space.

Protect Your Dreams.

Because of its healing and grounding combination of metal and crystals, The Wishing Sphere Mini was designed to absorb and transmute negativity, keeping your wishes safely embedded within the positive, high-vibration frequency needed to bring them to fruition.
What Is the Wishing Sphere Mini?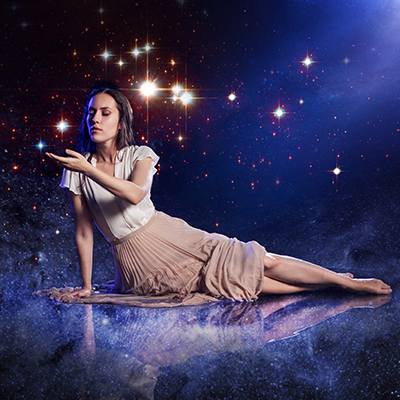 The Wishing Sphere Mini is a breakthrough spiritual tool that empowers you to turn your deepest desires into reality. With The Wishing Sphere Mini, you are the architect of building your own dream life. Through sacred, Quantum energetic technology, it turns the energy of your thoughts into real life manifestations.
It's as easy as thinking a thought and then allowing The Wishing Sphere Mini to do its work. There's no special knowledge needed, no magical spells to say, no negotiations or promises you need to make. No wish is too big or too small. And, unlike the imaginary genie in a bottle that only grants you three wishes, with The Wishing Sphere Mini, you don't have to wish for more wishes. You get unlimited wishes!
This is a powerful lifetime companion that is ready to assist you on your journey. It is the product of thousands of years of knowledge, millions of years of geologic formation, and an eternity of divinely channeled information.
How Does the Wishing Sphere Mini Work?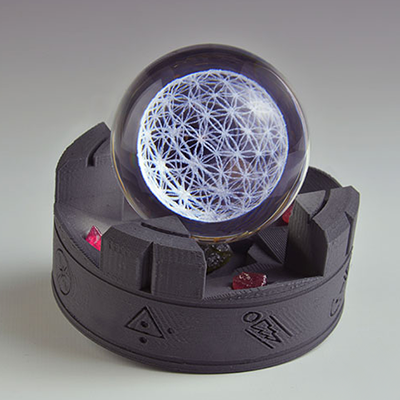 Due to gravity and physical dynamics, on a macro and micro scale, almost everything in our world is round: our Earth, our Universe, our cells. The sphere shape is an ancient symbol that represents life potential, unity, completeness, infinity, and the universe itself.
But The Wishing Sphere Mini is about more than symbolism. It is a physical energy transformer that "fertilizes" your wishes and grows them into reality. Think of your wish as a seed. People often refer to their creative thoughts as a "seed of an idea." This is fitting, because that's essentially what thoughts and ideas are. They are energetic seeds, waiting to be planted in a fertile medium, with the nutrients and climate that allow them to grow.
How many times have you had what you thought was a great idea or a wish… only to have it destroyed by a well-meaning critic? It doesn't even have to come from outside—sometimes our own doubt and negativity are the critics that destroy our wishes.
The Wishing Sphere Mini gives your wishes a "safe space" within which to grow, so they are protected from outside critics, your own doubts, and negative energy. This is achieved through the help of the steel composite base, which grounds the entire unit and circulates even more grounding energy from natural Ruby stones.
As the energy circulates throughout the unit, Sacred Symbols and extraterrestrial Moldavite transmute the energy to a more positive frequency, pushing it up through the base of the 99.9% pure, lab-created Quartz crystal sphere. This is where the magic begins!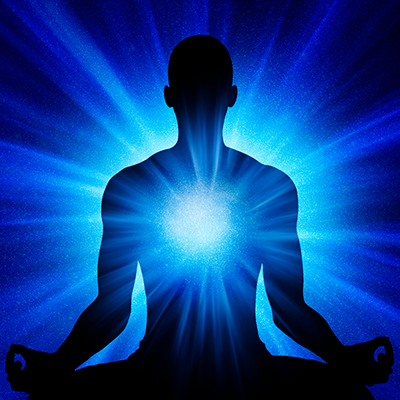 Once inside the sphere, all energy is completely cleansed of any remaining negativity and the ultimate clarity of manifestation is achieved. The energy travels along the path of the Flower of Life etching, where it practices the pattern of creation. Almost immediately, the sphere emits your activated wish energy in all directions. As it radiates out into the Universe, it attracts all of the energetic elements (connected to real, physical objects and beings) that are needed to create the recipe for your wish fulfillment. All that's left to do is to watch the elements come together to deliver the manifestation of your wish!
Note that there are energetic overtones and undertones connected to every wish––these are wishes you may hold in your subconscious, wishes you made long ago that you've since forgotten, or wishes you're simply afraid to ask for now. These wishes will automatically attach themselves to any new wishes, bringing you manifestations that will often seem "beyond" that which you asked for initially. It is all part of the glorious unfolding of creation and meant for you to enjoy!
The Power of Crystals
Natural crystals are amazing tools from the Earth that contain a stable energetic charge. Because of the way they were formed over thousands of years, they hold a frequency that is essentially "frozen" in time.
In the Wishing Sphere Mini, natural crystals were selected for their specific frequencies and their ability to work together to cleanse and activate your wish energy.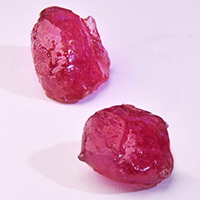 Uncut Precious Ruby Stones (x4)
Ruby has been revered in many cultures throughout history and was once considered more precious than diamonds! It is a stone of passion, protection and prosperity. Ruby provides grounding from the Earth, and it also symbolizes the sun, glowing bright and warm with healing, confident energy. It is a root chakra stone that has been said to have a positive influence on fertility, confidence, relationships, protection, circulation and manifestation.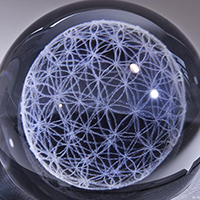 99.9% Pure, Lab-Created Quartz Crystal Sphere (x1)
Perhaps the most famous "Master Healer" stone, Quartz amplifies and intensifies all healing and positive vibrations, ensuring that all of the energy circulating through the The Wishing Sphere Mini is of the purest, most beneficial quality. The Sacred Geometric symbol of The Flower of Life is 3D laser-engraved within it to facilitate wish activations. It spans 50mm in diameter.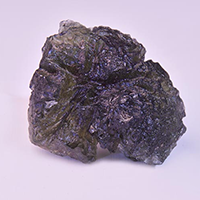 Extraterrestrial Moldavite Stone (x1)
Considered a connectivity stone, Moldavite was created by a single meteorite that struck one tiny part of the globe 14.8 million years ago! Many people report a noticeable sensation of heat when holding this stone; others have experienced temporary dizziness and headaches due to the effects of rapidly attempting to acclimate to its ultra high vibration. In The Wishing Sphere Mini, it acts as a bridge between the grounding energy of Ruby stones and the manifestational energy of the Quartz sphere.
Results May Include: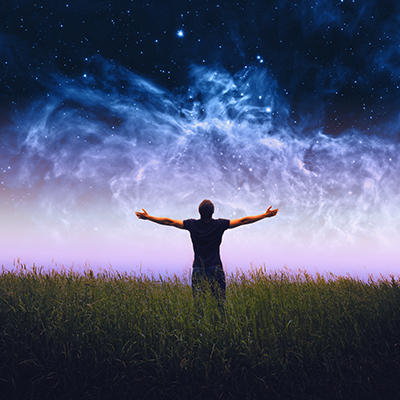 A greater awareness of your deepest hopes and desires
Greater faith in positive outcomes
Improved confidence and self-esteem
Deeper spiritual insights
An increase in happy "coincidences"
Enhanced and more frequent positive manifestations
Miracles!
Components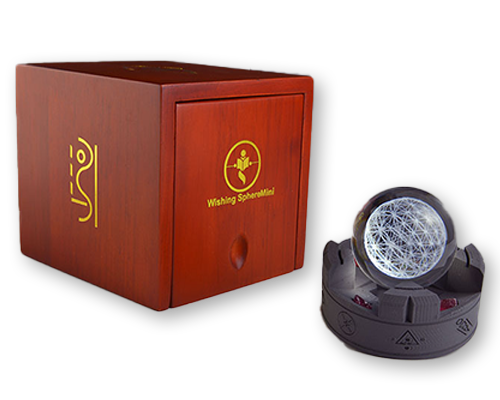 Sacred symbology and geometry
Durable, steel composite base
3D Laser-etched, lab-created, 50mm Quartz manifestation sphere
Five natural crystals, including: 4 raw, precious Ruby stones and 1 piece of extraterrestrial Moldavite
Comes in a custom-made wooden box
All materials infused and activated with pure positive energy and intentions
Activation Instructions
When you receive The Wishing Sphere Mini, carefully unbox it and place the base in your intended location. Organize the four Ruby stones in each of the four exterior chambers and place the Moldavite stone in the central vortex. Then, carefully place the Quartz sphere on top.
When you are ready to activate it, hold your left hand over the sphere and speak out loud, "I HONOR THE SPACE IN WHICH YOU EXIST." That's it, The Wishing Sphere Mini is activated and ready to begin manifesting for you!