What if there was a way to take all of your thoughts, dreams, hopes and wishes and turn them into a physical reality that lasts? TheSourxe V encapsulates a massive upgrade that builds upon powerful TheSourxe IV software to help you channel your internal desires into the external world. In short, you choose your own reality and TheSourxe V will help you become the creator of your own destiny.
A host of new features allow for a better flow of unrestricted energy from your mind to the universe. This 5th Generation software has been redesigned with more customization options to give you more control over the flow of your life. Now you can program every detail of your new reality as you wish, and even blend different combinations of options for truly individualized results. TheSourxe V has also been updated with synergistically-enhanced, new symbol designs that draw upon the awesome power of Sacred Geometric principles. In addition, it has been supercharged with the powerful Aquaware 5 engine so you can see results sooner, allowing you to take advantage of its new Ultra Fast Manifestation Program. This is the single most effective way for you to activate your deepest desires and bring them to life. All you have to do is to set your manifestations – then simply watch the results unfold as this breakthrough software goes to work.
After using the previous version of the software, users reported results from simply being luckier, to the truly miraculous. With TheSourxe V, we've taken that software and turbo-boosted it to give you unrestricted access to the universal, unbounded power of the Quantum Realm. Imagine the kind of results you can achieve. Are you ready to step into your new reality?
Full Program:

$

497
Availability: Out of stock
1-Week Free Trial:
FREE
Availability: Out of stock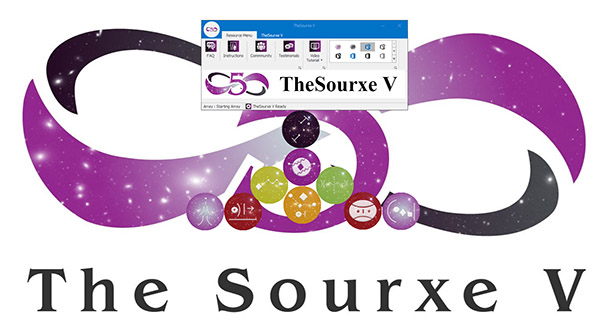 New Features of TheSourxe V
Ultra Fast Manifestation Program
Synergistically-Enhanced New Symbol Design
Supercharged with Aquaware 5 Engine
Faster Manifestation
Completely Customizable with Arrays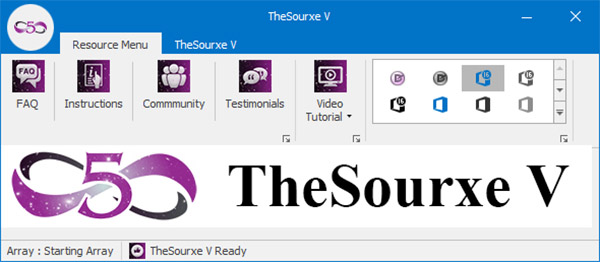 TheSourxe V Capabilities
Effortlessly create your own destiny
Noticeable increase in beneficial synchronicities
Enhanced confidence about your "path" in life
Overview
In the Quantum realm, there is no friction. Thoughts become reality instantaneously. Whatever you can imagine, you can become. This power to manifest your wildest dreams has always been inside you, but society has programmed us to believe otherwise. TheSourxe V acts as a conduit to bypass this false doubt and provide you with the unencumbered ability to manifest your true desires.
Unlock your own true potential as you tap into the power of universal Source energy. Thanks to potent new features, TheSourxe V carries you beyond your current limitations to a level of consciousness and abilities you never before thought possible. What would you love to do? Start a new career? Develop psychic and intuitive abilities? Get more comfortable financially? With TheSourxe V, you'll find that obstacles transmute almost instantly to become opportunities.
Using TheSourxe V regularly is easy and fun as you watch your dreams unfold. Begin each day with a 1-minute water-preparation ritual, and you will be blown away by the results. Through repeated use, your vibration will shift on a more permanent level, allowing objects of your desire to flow effortlessly to you as you create your new reality. Increased synchronicities, or "lucky coincidences" have been reported, and are a pleasant effect of your enhanced level of focus as a result of using the software daily.
Your desires continue to present themselves for a reason – they are clues to the reality you are supposed to experience. Free yourself from the shackles of perceived limitations and live the life of your dreams: with TheSourxe V, it's as easy as drinking a glass of water.
How does TheSourxe V Software Work?
TheSourxe V software upgrade builds upon powerful algorithms using the turbocharged Aquaware 5 engine to release negative memories and lower vibrational fields from water, reprogramming it at a higher vibrational level. This super charged water assists you in reaching a vibrational frequency that is more attuned to manifesting positive intentions. TheSourxe V melts away obstacles and connects you to the limitless power that fuels the universe!
Results May Include:
Faster ability to leverage your own "Power of Intention" using Quantum Physics, the Quantum Realm, and Source Energy
Magnification of your most wanted intentions and a manifestation that is as unique as you
Personal transformation and increased confidence
Higher vibrational levels of existence
Testimonials
I used TheSourxe to charge some water for my 3-year-old. I'd been gone on a trip and came home to her having the worst chapped lips ever. I mean, bloody, scabby pieces of meat. Seriously bad. A week of trying to heal them with lip balm, healthy foods and extra liquids has not seemed to help. She'd wake up every morning with her lips crusted in blood. So, I charged some water yesterday with the intent to heal her chapped skin and had her drink it throughout the day. This morning they're pink again.
I had a skin rash from a food allergy. I drank a few sips of TheSourxe water today and the rash subsided within minutes. TheSourxe software keeps me powered up at 100% mentally and physically.
Recently, I posted a topic on weight loss. Because I FEEL more than visualize, I put a note on my water bottle that read: "I easily and consistently weigh 56 kgs." Four days later, I weighed in at 65kgs. I immediately thought that TheSourxe doesn't work and I had wasted my money. While I was busy doing something else, this random thought popped into my head: "What if my subconscious doesn't read figures like my conscious mind? Numbers are just numbers." I immediately changed the figure on my water bottle to 55 kgs, and when I charged my water, I repeated my mantra: "I easily and consistently weigh 55 kgs." A day later, I was down a full kilogram (2.2 pounds).
Wow! I know things before they happen since using this! It is really remarkable.
I have used TheSourxe to experiment with conscious manifestation and it worked 11 times over. As a test I asked to manifest a one hundred dollar bill, not a check, a gift card or something with a $100 value but specifically a 100 US Dollar Bill. I ran the program and released it to the universe to do its job. I did not know how it would come about or when, but I trusted the process and tried not to dwell on it when doubts or disbelief would enter my mind. Six days later, I decided to sell some of my personal items I had no longer use for. Not remembering my conscious manifestation request, I almost lost my mind when the total of my sale came to $1,111. Indeed, I received not one, but ELEVEN 100 dollars bills plus more. So have fun with TheSourxe, release and reap.
I drank a glass of water and intended: Free front-row center seats/tickets for "Stars On Ice" this Saturday. On Thursday, we were finished practicing at the rink and one of the rink guys asked us if we were going. I candidly told him yes, if someone gives us free tickets. Immediately he said, "I have free tickets… right here in my pocket". I didn't believe him, but he pulled them out. He was so happy to give them to us and we were so grateful to receive!! Thanks for this wonderful invention!
Be careful what you wish for 'cause if it's possible to have too much of a good thing, TheSourxe will be the one to reveal it!
First let me say that I am very sensitive to anything and everything I eat or drink so when I used TheSourxe for the first time I really knew that this was something special. It IMMEDIATELY gave me a good feeling from my stomach to the top of my head! Wow, it's like a magical (if you will) spell came over me, a happy spell, JOY! Pure JOY! Yes, I feel good! My final thought is I want to keep this in my life forever!
Requirements
Software has been redesigned for Windows 7, 8, 8.1 and Windows 10
Intel Pentium or equivalent, Windows OS, 2 GB RAM, 250 MB free disk space
Immediate Download
After purchasing, you will receive a download link for the software in your invoice.
Documentation
Frequently Asked Questions
Why treat water outside the body and not just the water in the body?

It's just plain more effective, and the reason for that is – the water in the glass, once prepped and structured, doesn't have any fears, beliefs, preprogramming of any kind, to overcome, in the way that your body and mind do.
How long does the water remain charged?

The water should stay charged unless it becomes subjected to things and events that leave negative imprints upon it. Example – strong electromagnetic fields (some home appliances) tend to negate some of the water's charge if left near them for prolonged periods of time.
Is it possible to charge another liquid while the first one hasn't been used yet?

Charged water remains charged. Previously charged liquid that hasn't been used will indeed remain charged with the particular objective regardless of charging a new liquid with a different intent.
How long does the charged effect work? And what affects it?

This depends on the your primary objective is, for instance if you want to charge your water source with "Energy" the effects are felt a few minutes after drinking the water and can last for several hours. It all depends on what your objective is and if it can be delivered immediately or not.
Is there any specific method required when putting attention?

This is very important piece of the charging process, once you push " Eneter TheSourxe V" button you need to move your attention from the program to the source water. TheSourxe V only requires a second for your attention to be on the source water then once the connection is made TheSourxe V will do the rest.
Is power of the programming affected by the computer's power?

No, its effected by how clear your objective is in your mind.
Does my current mindset affect the result of water programming?

Yes you need to be clear minded and have a very clear objective in mind.
Are there any recommendations regarded to the daily use of TheSourxe V? Like how often I should use it, or how much charged liquid to drink daily? Some sort of regime?

One of the greatest attributes of TheSourxe V is your abilities to play. You are only limited by your imagination. When using TheSourxe V, it really is counter productive to give you a set of criteria on proper usage for the simple fact that TheSourxe V is an unlimited source of power. It taps into the very stream of creation that is unlimited in power and scope. Outside of simple instruction set provided in the User Manual, you are free to experiment and share your experiences on our forum.
Is it possible to useTheSourxe V too much?

Yes, if your body starts to detox you should back off from using TheSourxe V for few days. Detoxing is when the body starts to let go of low vibe material that is stored throughout your body in the form of energy. Detoxing can come in many forms like fatigue, skin rashes, flu like symptoms, red eyes and just feeling energetically unbalanced to name a few.
Is it possible to charge the water in advance of filling the glass?

No, you should have the target water in the glass and ready before using TheSourxe V to charge it.
Are there any benefits to using charged water for plants or animals?

The benefits to plants and animals are just as great as they are to humans. For example using TheSourxe V to charge a glass of water with the objective "Cleanse and Rejuvenate" would have the same effects on humans, animals or plants. Try treating a spray bottle filled with water with the objective "Insect Repellent" and spray it around your yard. Again, you are only limited by your imagination.
Is it possible to program more liquids at once? Like a package of bottled water?

Yes all you have to do is move your attention from TheSourxe V to the whole package of bottles.
Is it safe and/or recommended to charge water for your family and friends?

TheSourxe V taps into the very heart of creation where all Divine Love comes from, if your objective is in the purest interests of the people you are looking to help, then yes it will work. Otherwise you are just wasting your time. TheSourxe V has many fail safe features built in but the biggest by far is where the power comes from and ultimately that determines the effectiveness of your objective.
When used for others, does their knowingness and expectations affect the results/effectiveness?

Like anything in life your expectations or knowingness can really make or break your experience so like the motto says, "Your expectations upon entering THESOURXE V determine your reality."
What is the largest amount of liquid that can be charged?

There is no limit, just play and let your imagination run away when using TheSourxe IV, Peter Schenk, the creator of the software, experimented with sending intentions to the Gulf of Mexico during the oil spill disaster. We have to wonder why the devestation wasn't as great as initially reported.
What happens if charged liquid is mixed with a non-charged liquid?

You will dilute the original charged liquid.
Any other "tests" that easily show TheSourxe V's effectivenes?

Use TheSourxe V on alcohol and watch how it take the sharpness and bite out of it.
What about carbonated soft drinks? Can it be used on Pepsi or Coca-cola like beverages?

Sure you can…. try it on Root Beer.
What if there's ice in the water?

Makes no difference.
What happens if the charged water is frozen?

Water treated with TheSourxe V will have a beautiful perfect structure when frozen unlike untreated water.
What about using it on frozen liquids?

TheSourxe V must be used on liquids not frozen liquids.
Can you charge the same water again?

Of course you can – any water you use TheSourxe V on will instantly have the highest vibrational state available.
Can I charge different intents into different liquids?

Indeed you can – each liquid can be programmed with a specific intent. However, we suggest starting out small and scaling it up from there.
Frequently Asked Questions (Spanish)
¿Por qué tratar el agua que se encuentra afuera del cuerpo en lugar del agua que se encuentra adentro del cuerpo?

Simplemente es más afectiva, y la razón de esto se debe a que a diferencia de tu mente y cuerpo, cuando programamos y estrucutramos el agua adentro de un vaso, esta agua queda libre de miedos, creencias o programas que te limiten y se tengan que superar.
¿Por cuánto tiempo se queda el agua cargada?

El agua de queda cargada a menos de que sea sujeta a cosas y eventos que les dejen una carga negativa. Por ejemplo: campos electromagnéticos (algunos aparatos eléctricos de la casa) tienden a negar la carga del agua si son colocados cerca de ellos por un periodo de tiempo prolongado.
¿Es posible cargar otro líquido del mimo vaso que ya fue cargado?

El agua cargada se queda cargada. Cuando cargas un agua y el líquido no se toma o utiliza, esa agua permanecerá cargada con ese objetivo particular sin importar si quieres cargar otro líquido del mismo vaso con otra intención.
¿Por cuanto tiempo dura el efecto de carga en el agua? Qué efecto es?

Esto depende de tu objetio primario, por ejemplo, si quieres cargar tu agua con intención de "Energía" los efectos se sienten después de tomar el agua y pueden durar durante varias horas. Todo depende de tu objetivo y si puede ser menifestado instantáneamente o no.
¿Hay un método específico para poner mi atención el el agua?

Esto es muy importante, cuando presiones el botón " Enter TheSourxe V", necesitas poner tu atención en el agua. TheSourxe V solamente requiere tu atención durante un segundo, y ya que se hace esta conexión, TheSourxe V hará el resto.
¿El poder del programa se ve afectado por la potencia de la comptadora?

No, el poder del programa se e afectado por la claaridad de tu objetivo en tu mente.
¿Mi estado de mente afecta los resultados de la programación del agua?

Si, necesitas tener una mente calmada y un objetivo claro en tu mente.
¿Hay alguna recomendación en cuanto al uso diario de TheSourxe V? Qué tan seguido lo debo de usar, cuánto líquido tienes que tomar diario? Hay algún régimen específico?

Uno de los mayores atributos de TheSourxe V es tu habilidad para jugar con él. Sólo estás limitado por tu imaginación. Cuando se utiliza TheSourxe V, realmente es contra productivo darle un conjunto de criterios sobre el uso adecuado por el simple hecho de que TheSourxe V es una fuente ilimitada de energía. Este programa se mueve en el mismo flujo de la creación que es ilimitado en poder y alcance. Fuera del sencillo conjunto de instrucciones proporcionado en el Manual del usuario, puedes experimentar y si deseas puedes también compartir tus experiencias en nuestro foro.
¿Es posible cargar el agua por adelantado sin tener que colocarla en un vaso de agua?

No, tienes que tener el agua enfrente de ti y lista para su uso antes de cargarla con TheSourxe V.
¿Es posible cargar el agua por adelantado sin tener que colocarla en un vaso de agua?

No, tienes que tener el agua enfrente de ti y lista para su uso antes de cargarla con TheSourxe V.
¿Hay beneficios de usar el agua cargada con plantas y animales?

Si, los beneficios para las plantas y los animales son tan grandes como lo son para los seres humanos. Por ejemplo, utilizando TheSourxe V para cargar un vaso de agua con el objetivo "Limpiar y Rejuvenecer" tendría los mismos efectos en seres humanos, animales o plantas. Puedes cargar una botella de spray llena de agua con el objetivo "Repelente de insectos" y rociarla alrededor de tu jardín. Aquí sólo estás limitados por tu imaginación.
¿Es posible programar más de un líquido a la vez? Como un garrafón de agua o varias botellas de agua?

Si, lo único que tienes que hacer es mover tu atención del TheSourxe V al garrafón o todas las botellas.
¿Es seguro/recomendable cargar el agua para familiares o amigos?

TheSourxe V toca el corazón de la creación de donde todo el Amor Divino viene, y si tu objetivo está en los más puros intereses de las personas que buscas ayudar, entonces sí funcionará. De lo contrario, simplemente estás perdiendo el tiempo. TheSourxe V tiene muchas características de seguridad de falla incorporado, pero la pureza de tu corazón e intención determinará la eficacia de tu objetivo.
¿Cuando se usa el agua para otras personas, sus expectativas afectan el resulado/efectividad el agua?

Como cualquier cosa en la vida, tus expectativas puedes hacer o romper tu experiencia, entonces se podría decir: Tus expectativas al entrar a THESOURXE V determinan tu realidad.
¿Cuál es la cantidad límite de agua que se puede cargar?

No hay límites en cuanto a la cantidad de agua, deja que corra tu imaginación. Con TheSourxe IV, el creador del software Peter Schenk experimentó mandar intenciones al Golfo de México durante el desastre de vaciado de petróleo al mar. Tenermo que preguntarnos por qué las devastaciones de estos incidentes no fueron tan grandes como inicialmente se habían reportado.
¿Qué pasa si el líquido cargado se mezcla con el que no está cargado?

Lo que pasa es que dluyes la potencia del líquido cargado.
¿Hay otras ¨pruebas¨ que demuestren la efetividad de Sourxe V?

Usa TheSourxe V en alguna bebida alcohólica y verpas como cambia el sabor y acidez de tu bebida.
¿Qué pasa con los refrescos? Puedo usar este programa con Pepsi, Coca-cola y otras bebidas?

Claro que puedes!
¿Qué pasa si hay hielo en el agua?

No hace ninguna diferencia.
¿Qué pasa si congelo el agua que está cargada?

El agua tratada con TheSourxe V tendrá una estructura muy bella y será muy diferente al de una agua normal.
¿Qué pasa si el agua que quiero cargar está congelada?

TheSourxe V necesita usarse en líquidos que no estén congelados.
¿Puedo volver a cargar la misma agua?

Por supuesto que puedes – cualquier agua que cargues con TheSourxe V instantáneamente tendrá la mayor frecuencia vibratoria posible.
¿Puedo cargar diferentes intenciones en líquidos diferentes?

Si puedes – cada líquido puede ser programado con un intento diferente. Sin embargo, te sugerimos empezar con pequeñas cantidades y subirle poco a poco.
¿Es posible usar TheSourxe V demasiado?

Sí, si su cuerpo comienza a desintoxicarse debe dejar de usar TheSourxe V por unos días. Detoxing es cuando el cuerpo comienza a dejar ir de material de baja vibración que se almacena a través de su cuerpo en forma de energía. Desintoxicación puede venir en muchas formas como la fatiga, erupciones cutáneas, síntomas de gripe, ojos rojos y sólo se siente enérgicamente desequilibrado para nombrar unos pocos.