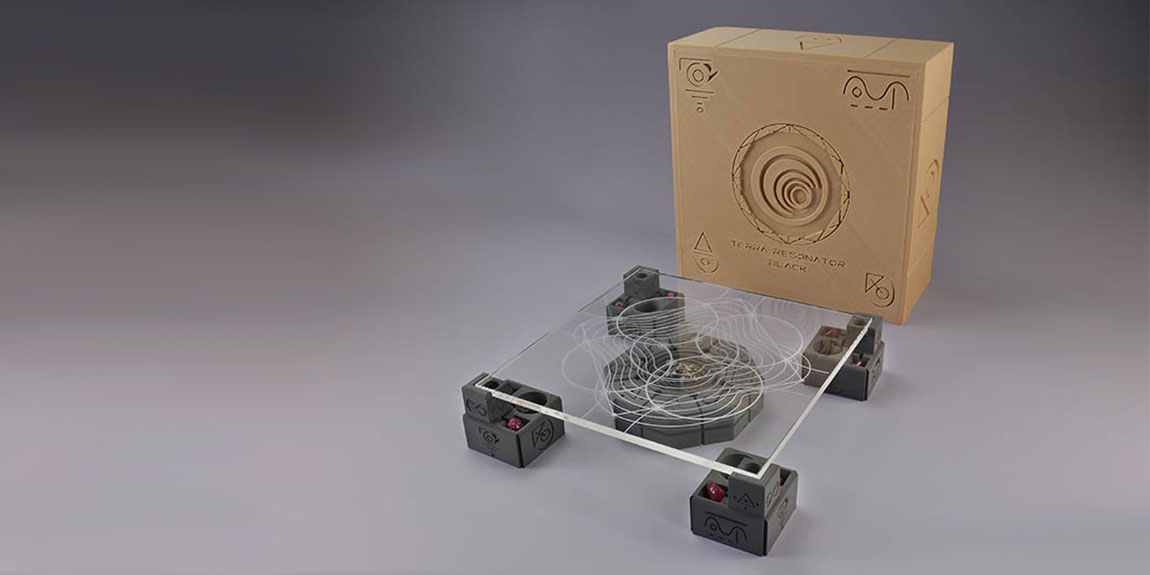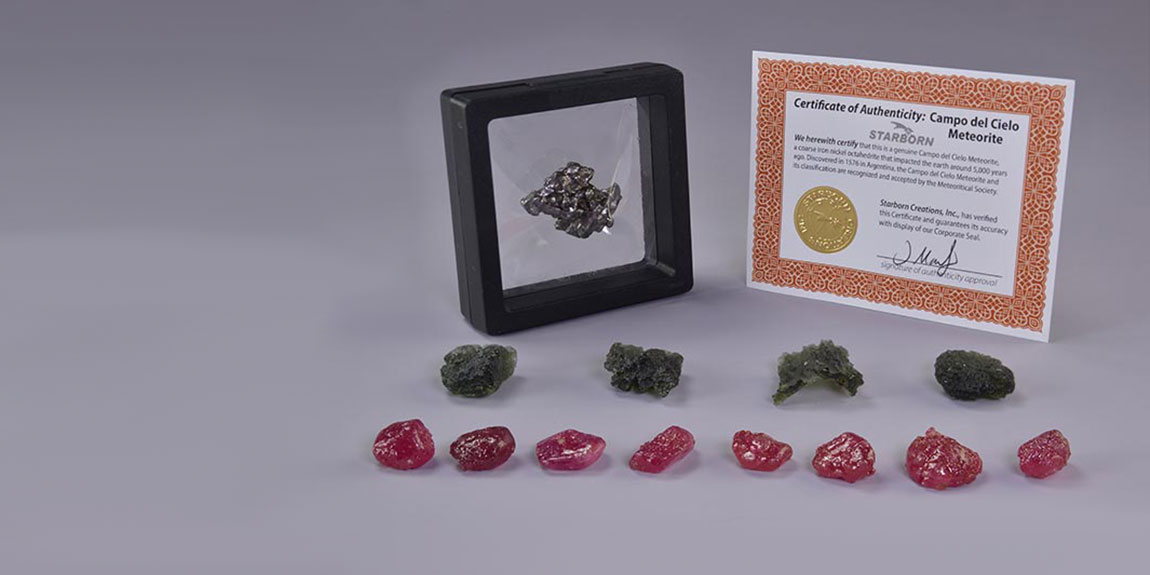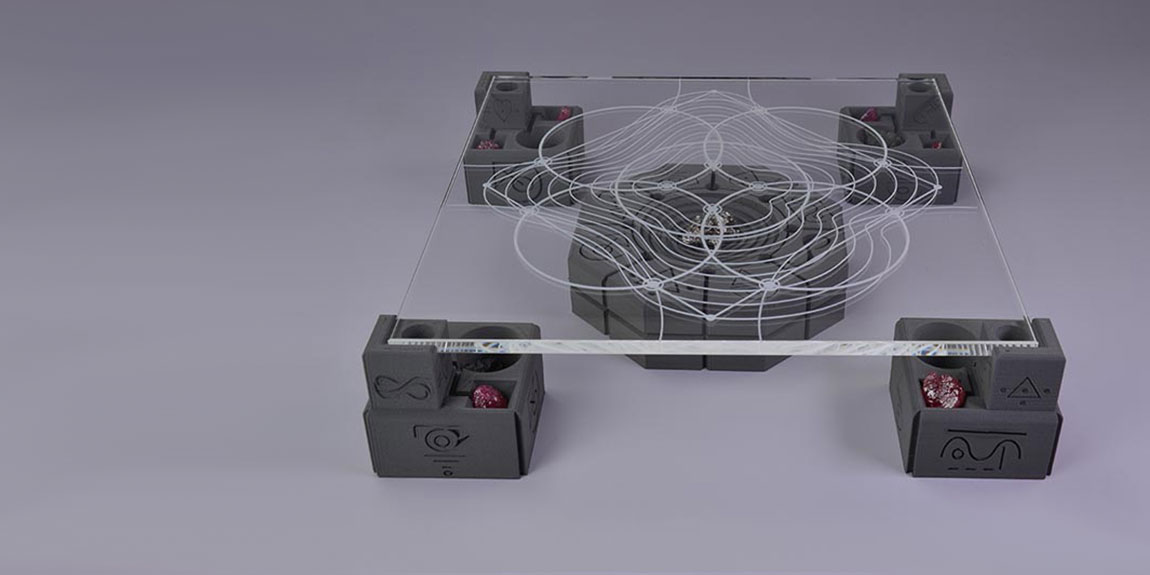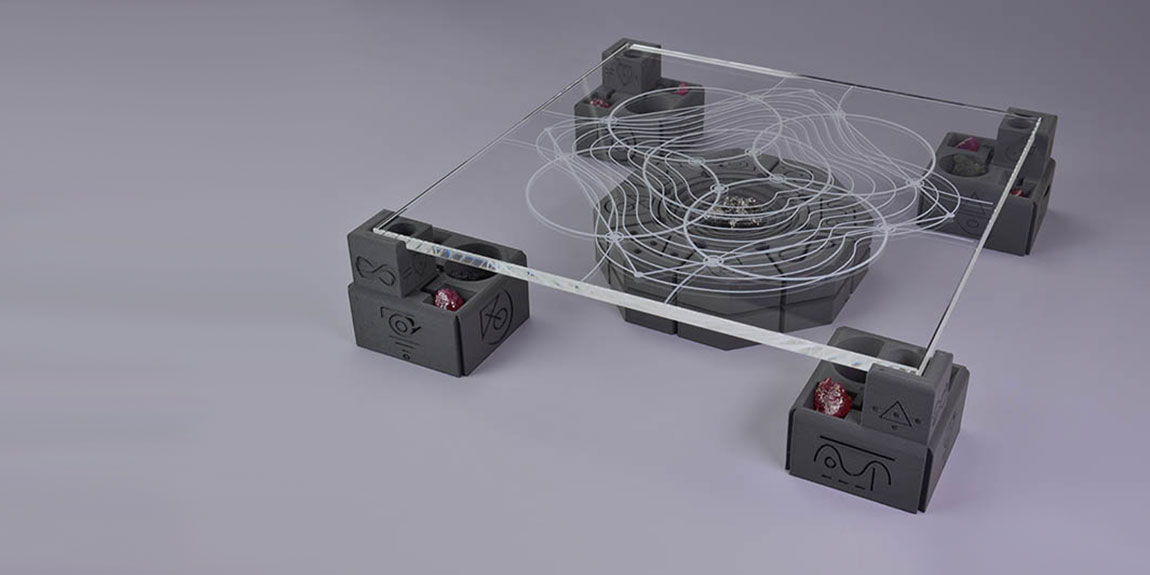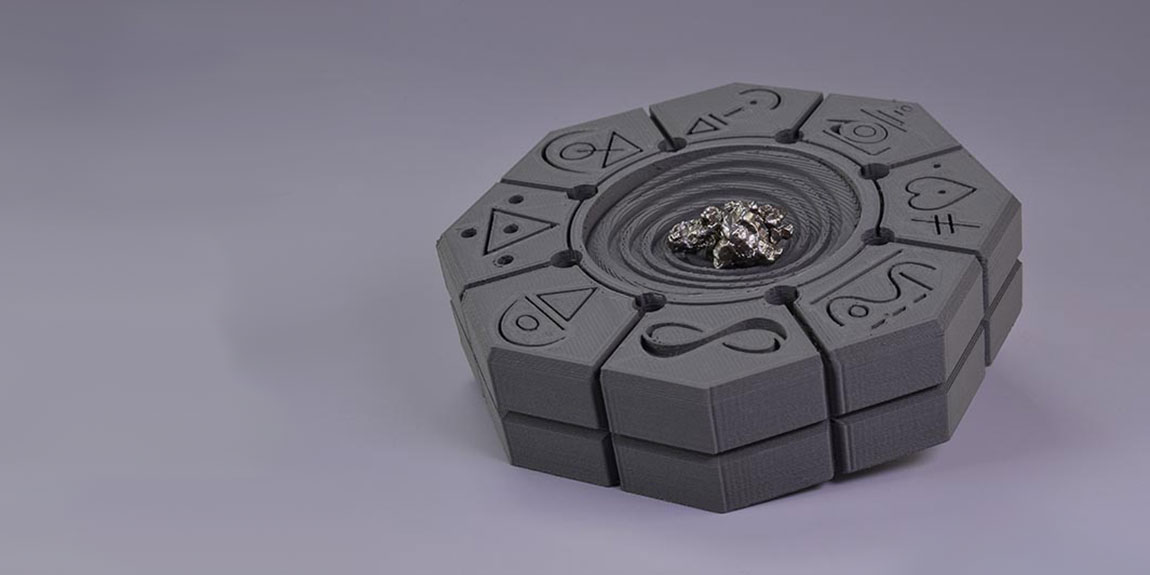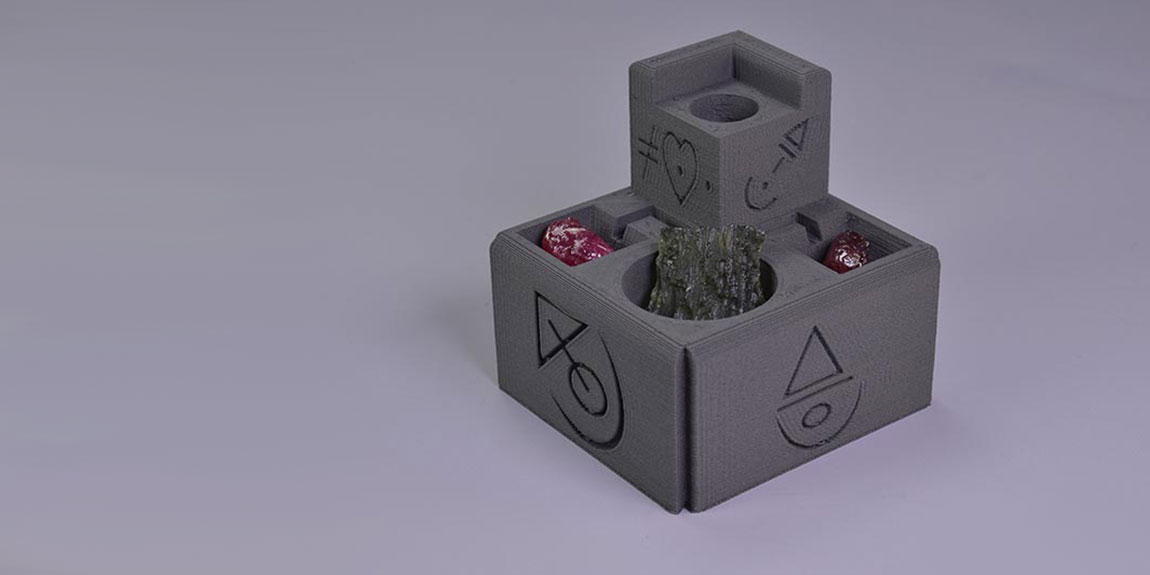 NEW
Boldly Reimagine Your Existence
This is not about leveling the playing field.
This is about creating a whole new field altogether…
Are you ready to leave behind all of the negativity and blockages that no longer serve you?
Are you ready to step into the thrilling, joyful, ever-evolving life that you deserve?
The Terra Resonator Black is about to be your most powerful advocate.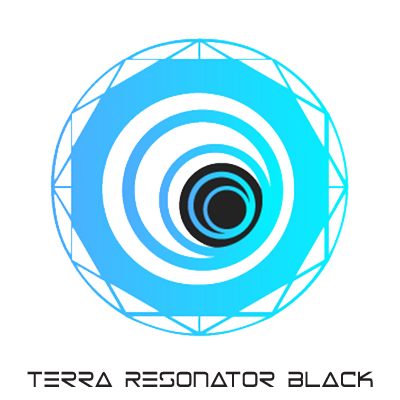 Recreate Your Universe in an Intentional, Positive, Productive Way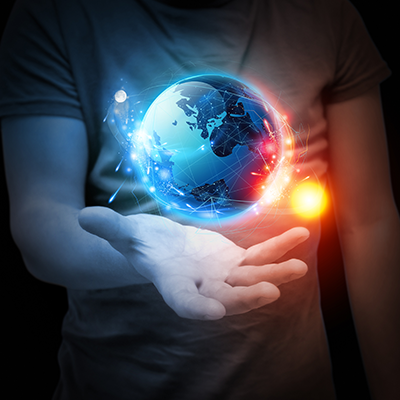 The culmination of knowledge of every instrument that came before it, the Terra Resonator Black incorporates bigger precious stones, more extraterrestrial stones, and a black hole consciousness that vacuums negativity and recreates your universe in an intentional, positive, productive way.
Unlike all of the other Terra Resonator products, the Terra Resonator Black is made from steel composite, not wood.
Instead of ONE sacred vessel that directs the flow of energy through a masterfully etched, 99.9% pure lab-created Quartz crystal plate, this unit contains FIVE vessels.
Everything about the Terra Resonator Black — from the materials, to its size, to its specially-designed layout — was designed for a bold reimagining of existence.
It represents a powerful alchemical tool that synergizes spiritual, terrestrial and extraterrestrial forces to create the life you want and deserve.
See the Terra Resonator Black in Action
The Terra Resonator Black – How It Works
To understand the engineering behind the Terra Resonator Black, you need to know a bit about black holes — yes, those mysterious regions of spacetime that have an immensely strong gravitational pull, vacuuming up anything and everything in their path.
This is how the central vessel in the Terra Resonator Black works. It pulls energy in, downward through the central vortex spiral, transmitting it through a rare, certified-genuine Campo Del Cielo (Sky Field) meteorite stone.
The configuration acts like a mini black hole to pull away negative and stale energy. And here's the amazing thing: physicists are now theorizing that every black hole contains its own universe!
In much the same way, the Terra Resonator pulls energy in, but then reassembles it into the universe that you desire!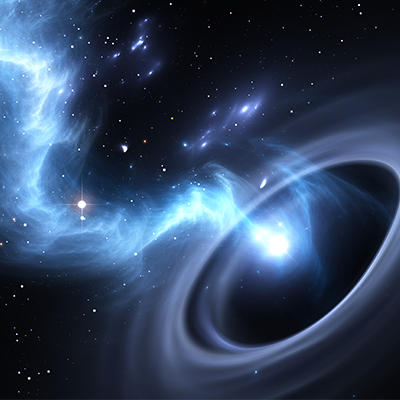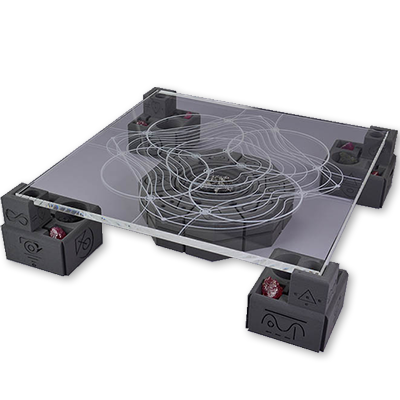 Its unique steel composite construction gives it an ability like none other in the Terra Resonator family — the entire unit acts like an energy conductor and a protective armor, shielding you from negativity and reflecting back to you only pure, positive energy.
After being filtered through the central vortex, energy radiates out back through the central Campo del Cielo meteorite stone — known for its ability to facilitate big, sweeping changes.
That newly recharged energy is transmitted across a 99.9% pure, lab-created Quartz crystal plate etched with sacred geometry.
The sacred geometry further structures the energy as it resonates over the four corner vessels. Placed in each corner, powerful raw Ruby stones and rare Moldavite stones help to amplify the vibrations of Heaven and Earth.
The natural and supernatural stones work together to mesh your intentions and physical energy with the new, blended frequency, marrying your highest aspirations and the means to achieving them here in the physical realm.
What To Charge With Your Terra Resonator Black
The Terra Resonator Black will restructure and recharge the energy of anything within a 20-foot radius, but for a more targeted impact, you can place items of symbolic value upon it.
Here are a few suggestions:
A check made out to yourself for any amount you desire
Candles
Talismans, symbols
Photographs
Notes/written intentions
Pet toys
Essential oils
Vitamins
Drinks
Why Is Energy So Important?
Energy is more than just a New Age term for something we can't see.
It's more than a feeling. Energy is a scientifically proven phenomenon.
All matter is made up of atoms. But when we zoom in very, very closely, we can see that the actual matter (electrons, neutrons and protons) making up an atom takes up very little space. The rest of the atom is comprised of energy.
When it's all added up, we can see that human beings, and all of the physical things around us, are actually made more of ENERGY than MATTER.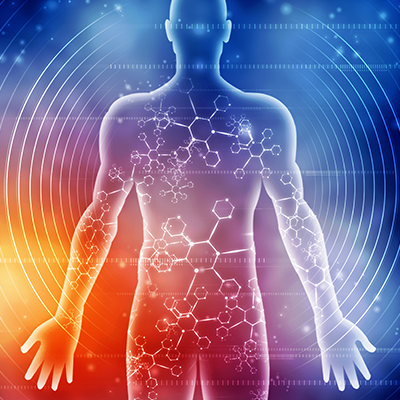 We Are Energetic Beings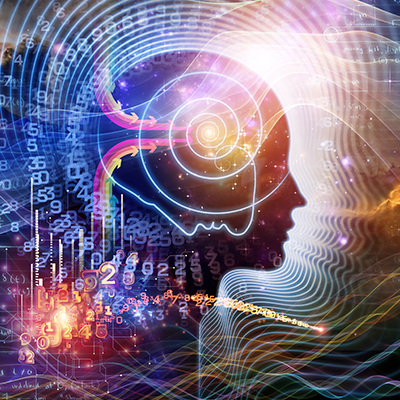 Our thoughts, the purest form of energy, shape us.
But, due to exposure with all kinds of contradictory energies around us, our thoughts can get off track.
We can hold beliefs that are unhelpful for forming the physical lives we want. Sometimes we're conscious of these beliefs, other times, they're working on a deeply subconscious level.
The Terra Resonator Black works to restructure all of this energy — think of it as hitting a powerful reset button.
It brings you back to a state of pure intention and ambition, and it provides you with the clarity to move forward on a physical path to achieve your highest goals.
The Power of Crystals
Natural crystals are amazing tools from the Earth that contain a stable energetic charge. Because of the way they were formed over thousands of years, they hold a frequency that is essentially "frozen" in time.
In the Terra Resonator Black, natural crystals were selected for their specific frequencies and their ability to work together to synergize potential (Heaven) and practical (Earth) energy.
EARTH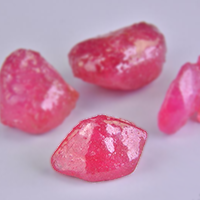 Ruby ~28 Carat Precious Stones (x8)
Ruby has been revered in many cultures throughout history, and was once considered more precious than diamonds! It is a stone of passion, protection and prosperity. Ruby provides grounding from the Earth, and it also symbolizes the sun, glowing bright and warm with healing, confident energy. It is a root chakra stone that has been said to have a positive influence on fertility, confidence, relationships, protection, circulation and manifestation.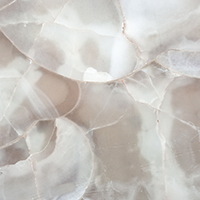 99.9% Pure, Lab-Created Quartz Crystal Plate
Perhaps the most famous "Master Healer" stones, Quartz amplifies and intensifies all healing and positive vibrations, ensuring that all of the energy circulating through the Terra Resonator Black is of the purest, most beneficial quality. The 99.9% pure lab-created Quartz plate measures 10″ × 10Prime; × ¼″ and has Sacred Geometry laser-engraved on it to further enhance its beneficial effects.
HEAVEN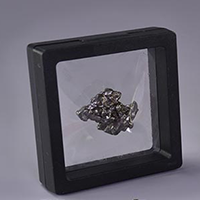 Certified Campo del Cielo Meteorite Stone (x1)
Said to exhibit supernatural properties, Campo del Cielo (Sky Field) meteorite landed in a remote part of Argentina 4,000 to 6,000 years ago. It exhibits protective qualities, shielding you from the negative energy of others. But what's truly remarkable about it is that it has the rare ability to activate your Crown and Root chakras at the same time! This provides for a full-body healing and energizing experience that is so powerful, it can lead to lasting physical and spiritual changes. Campo del Cielo meteorite improves stamina and focus, boosts the immune system, relieves stress, helps with fertility issues and provides clarity to find new and creative solutions to old problems.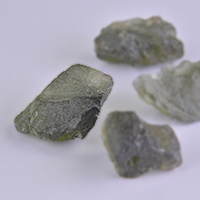 Moldavite 2-4g Stones (x4)
Considered a connectivity stone, Moldavite was created by a single meteorite that struck one tiny part of the globe 14.8 million years ago! Many people report a noticeable sensation of heat when holding this stone; others have experienced temporary dizziness and headaches due to the effects of rapidly attempting to acclimate to its ultra-high vibration. By incorporating four pieces of Moldavite into the Terra Resonator Black, a spiraling energy is generated that connects all of the stones and funnels energy into and out of the central vortex.
Components
Sacred symbology and geometry
Durable, wood composite storage box
Steel composite base vessel and 4 corner vessels
Laser-etched lab-created Quartz manifestation plate
13 natural crystals, including: 8 approximately 28-carat raw, precious Ruby stones, 4 pieces of 2–4 gram Moldavite, 1 certified Campo del Cielo Meteorite stone
Certificate of Authenticity
All materials infused and activated with pure positive energy and intentions.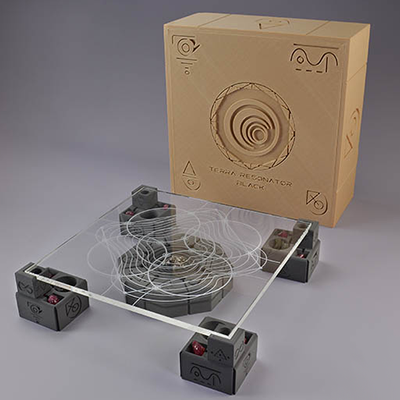 Activation Instructions
Setting Up Your Terra Resonator Black
When you receive your Terra Resonator Black, carefully unbox it and place the base vessels in their intended location. Organize the 4 Moldavite stones in the four corner pieces, each flanked by 2 of the 8 Ruby stones. Add the Campo del Cielo stone in central vortex spiral. Then, carefully place the Quartz plate on top, with the etched side facing down, and each of the corners seated securely in one of the four corner vessels.
Activating Your Terra Resonator Black
When you are ready to activate your Terra Resonator Black, hold your left hand over the unit and speak out loud, "I HONOR THE SPACE IN WHICH YOU EXIST." That's it, your Terra Resonator Black is activated and ready to begin manifesting for you!
The possibilities of how to use your Terra Resonator Black are endless, but some suggestions of objects you might try linking include:
Water

For ultra-hydration and cellular rejuvenation

Meals & Snacks

For optimal weight and better nourishment

Pictures

Objects of desire or photos of loved ones upon which to focus protection, positive support and manifestation

Written Affirmations

Give your statements a power boost!

Symbols

Anything can be a symbol, the power lies in the intention you place upon it. Statues, artifacts and even every day objects can be powerful symbols. Get creative with it and have fun!