Features of 12TH Project 5
Fifth generation software based on powerful Aquaware 5 engine
Physical Chakra Layering
LightBody Level 1–3
Lightning fast water preparation, user preparation and nucleating water
Ability to change program skins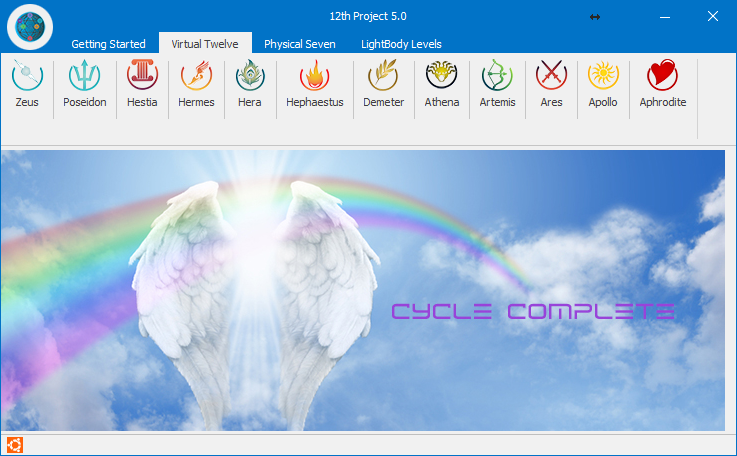 1-Week Free Trial:
FREE
Availability: Out of stock
Full Program:

$

397
Availability: Out of stock
12TH Project 5 Capabilities
Activated and balanced chakras
Personal transformation
Higher vibrational levels
More harmonious communication
Access to Quantum realms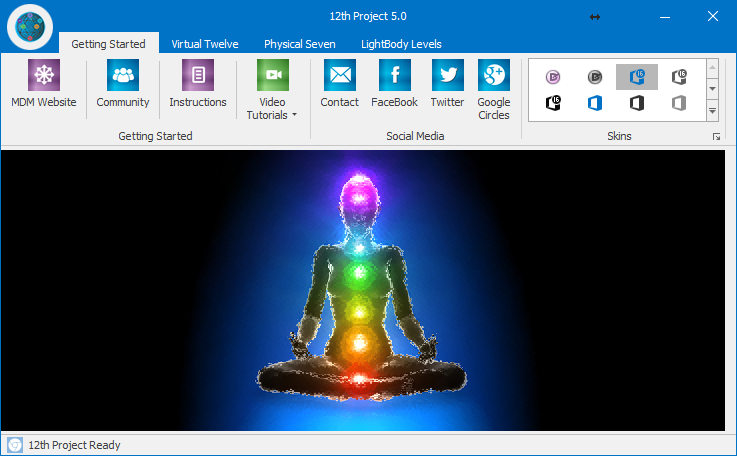 Overview
The 12th Project software is your key to chakra balancing and awakening: restore wellness, stimulate healing, activate love and forge your own path to enlightenment… in only a few minutes each day.
Ancient teachings acknowledge 7 physical energy centers in the body, and the harmonious flow of energy between them is critical to living a happy, healthy life. When one or more chakras gets out of balance, we can feel like we're on an emotional roller coaster, low energy, stressed or depressed. If balance is not restored, eventually this energy blockage can lead to poor health and aging.
The 12th Project helps you connect to a greater awareness of your chakras, leading to a restored balance and access to special abilities you never before experienced. Due to modern stressors and the prevalence of chemicals in our daily lives, many of us are blocked in the 7th and higher chakras, keeping us disconnected from higher realms of consciousness and psychic capabilities. And as a result of traumas, either in this life or previous lives, many of us are also blocked in the 1st chakra, leaving us feeling flighty and ungrounded.
In addition to freeing up the energy flow of your 7 physical chakras, you will come to understand what each chakra represents archetypally, symbolically and emotionally. And you can apply this knowledge to determine your own personal state of well being.
Beyond the physical realm, you'll discover your 12 virtual chakras, that can lead you to rediscover your spiritual and energetic gifts and abilities and know your true life's purpose. It is here that you can also access your own Akashic records.
How it works
The 12th Project 5 consists of nineteen modules: twelve are designed to activate virtual chakras located on the quantum plane and seven are designed to balance and restore the physical chakras within the body. Each of the modules will open a different chakra, and no two people will experience the same awakening. The coded information received is personal to you and you alone. Water (either bathing or ingesting) is the main conductor used by The 12th Project to transmit frequencies to you that will assist in opening and harmonizing the chakras.
Results may include:
Evolution of consciousness
Freedom from space-time thinking
Expanded personal awareness
Enhanced ability to access and interpret the Akashic records
A feeling of being more balanced and connected
Testimonials
You guys are geniuses. I've had "the reconnection" done but it took a few months for me to notice major changes. Now I am ultra-sensitive and feel peoples' energy, experience mental telepathy and can tell when someone merely thinks of me. I shared bottles of water with non-believers at work. It worked on about 6 out of 8 people. Some paid me just to bring in more. After using the software I have been in a blissful state, kind of like being attuned to higher realms of light and love. I had vivid dreams and while in the shower it felt like I was high or something. Thank you for such divinely inspired inventions. I love it! peace, love, light.
I know this is a broken record. But there is really something special going on. I feel changed and loved. Thanks!
Just wanted to say I'm on Fire. I couldn't feel better.
Just wanted to send you a quick note that yes indeed this is going to be powerful. I feel it already. Your putting out there for that price is truly selfless. I honor the great and altruistic work you do here for us all and myself personally.
Since working with the virtual chakras I feel a calmness and certitude that permeates every aspect of my life. Thank you for your work.
Requirements
Software has been redesigned for Windows 7, 8, 8.1 and Windows 10
Intel Pentium or equivalent, Windows OS, 2 GB RAM, 250 MB free disk space
Install Microsoft .NET Framework– Most PCs already have this installed, which enables all the new state-of-the-art software for PCs to run. It comes installed (native) on Microsoft Vista Systems.
Immediate Download
After purchasing, you will receive a download link for the software in your invoice.
The 12th Project 5.0 is your gateway to energy, interconnection and enlightenment. By helping to balance all of the centers of spiritual power in and around your body, you will function more harmoniously, leading to opportunities for enhanced communication with others and with your higher self.
Out of stock